Rehearsals began this past weekend for the 2014 Ohio All-State Thespian show, Jeffrey Hatcher's comedy-drama Good 'n' Plenty. Director Geoffrey Nelson selected the large cast from high school students who auditioned in December; the actors come from schools across the state and will come together over four weekends to rehearse the show prior to performing it twice for the annual state conference in March.
Nelson selected the play because while it is very funny, it also has a serious side to it.  Playwright Jeffrey Hatcher set the play in his hometown high school in Wintersville, Ohio, during the American Bicentennial in 1976.  The action centers around a class project exploring the nature of democracy that goes horribly and humorously awry.
According to Nelson, "Jeff Hatcher is one of America's most prolific and most produced playwrights. He has written dramas, comedies and musicals as well as adaptations.  I think this is a great opportunity for these student actors to work on a play by a successful writer who comes from the same background they do."
At CATCO, Geoff produced Hatcher's Murderers and Scotland Road, as well as acting in Three Viewings and directing The Turn of the Screw, an adaptation of the Henry James novel.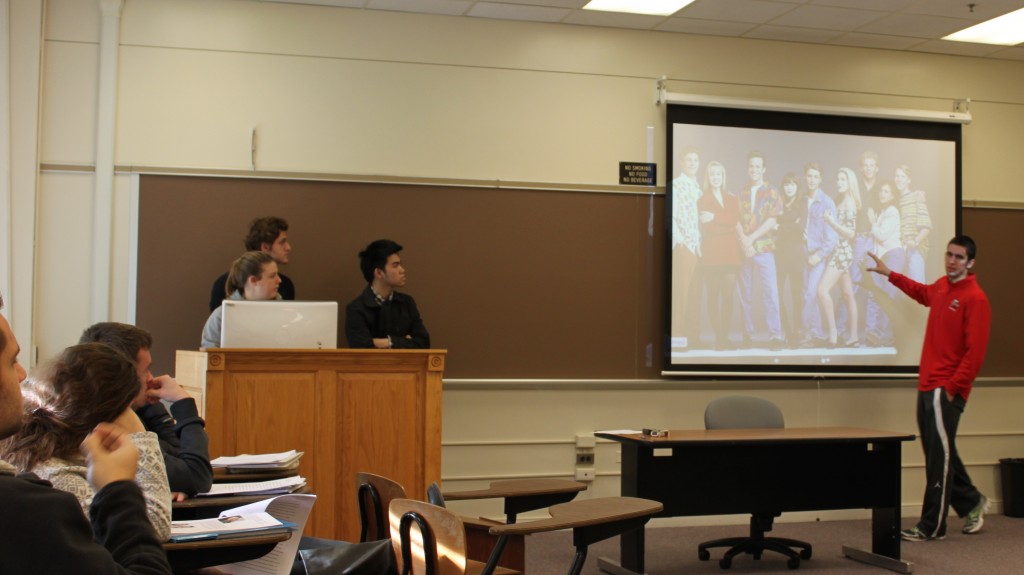 Geoffrey Nelson is teaching two sections of the class "Theatre Style and Creation" at Denison University during the current semester. Those enrolled range from freshmen to seniors, with majors ranging from economics to biology to psychology to communications.
"Theatre Style and Creation" is in effect a hands-on introduction to the process of making theatre, as students undertake creative projects (writing a short play, acting in a scene and designing set, costumes, lights or sound for a show) in addition to more academic work. Both theatre history (especially the Greek and Elizabethan periods) and dramatic literature (contemporary plays such as Angels in America and How I Learned to Drive and filmed performances of classics such as Oedipus Rex by the Stratford Shakespeare Festival and As You Like It by the Globe Theatre) are included in the syllabus as well as readings on the production process.
Nelson taught both acting and directing classes at Denison last year, as well as directing Tartuffe.
A Portable Theatre, a professional theatrical touring company based in central Ohio, launched its first production in June.  The Duck Variations by David Mamet features Equity actors Jonathan Putnam and Geoffrey Nelson as two elderly men who strike up a conversation in a park and end up in a philosophical duel. Hilariously misinformed, both George and Emil are determined to be right and are unwilling to yield to the other.
The Duck Variations is one of Mamet's first plays, written in the early 1970's when he was in his mid-twenties.
A Portable Theatre is dedicated to performing professional theatre productions in non-traditional spaces as well as in fully-equipped theatres.  Its plays are designed to focus less on scenery and lighting — The Duck Variations requires only a park bench — and more on acting and playwriting.
Upcoming performances of Duck will be given at a college, in a church, on a backyard deck of a private home and at a retirement community. Nelson, who also directs the play, is a Founder and the Artistic Director of APT.
Actors Nelson and Putnam have frequently performed together over the past thirty years, most recently in The Mystery of Irma Vep (see earlier post).
Geoffrey Nelson taught Theatre History I & II at Otterbein University this past year and will do so again next year.  Otterbein has a large theatre department and is noted for the professional training it provides for both actors and technician/designers.  The Theatre History survey course is required for all theatre majors.
In addition to the textbook, Living Theatre: A History of Theatre by Edwin Wilson and Alvin Goldfarb, students also read plays spanning the past two thousand years: Oedipus Rex, Lysistrata, The Misanthrope, A Doll House, Galileo, Endgame, Oleanna, etc. Filmed stage performances, including Shakespeare's As You Like It at the restored Globe Theatre in London, were also shown, as well as documentaries on such figures as Ibsen, Brecht, and avant-garde director Robert Wilson.
Nelson, who studied theatre history in graduate school with renowned historians Oscar Brockett and Richard Moody at Indiana University and with Alan Woods at Ohio State University, has interacted with Otterbein students many times over the past few decades.  First as a guest director for the plays The Taming of the Shrew, The Witness for the Prosecution, God's Favorite, Arsenic and Old Lace and The Effect of Gamma Rays on Man-in-the-Moon Marigolds and then as a professional guest actor for August Osage County and The Brothers Karamazov.
Last night was the opening of Geoffrey Nelson's Denison University production of Tartuffe, Moliere's 17th century play about a religious charlatan who wreaks havoc on the prosperous family that shelters him.
Considered one of the world's classic comedies, Tartuffe was originally banned after its premiere because of objections from the Catholic Church; it was allowed to be performed a few years later after intercession by French King Louis XIV and some judicious re-writes by Moliere.
This production uses a translation by British writer Ranjit Bolt, which retains the rhymed couplets of the original but uses contemporary phrasing.  In order to capture the historical style of both the play and the time period in which it takes place, Nelson was assisted by Vocal Coach Mandy Fox of the OSU Theatre Department and Movement Coach Eleni Papaleonardos of Available Light Theatre Company and the Wellington School.  Period costumes with a contemporary flair were created by guest designer Jessica Pitcairn.
This is the first play by Moliere that Nelson has tackled since playing Valere in a touring production of The Miser several decades ago.  That production featured film and television star Bill Pullman in the title role.
In addition to directing Tartuffe, Geoff is also teaching a Directing Class at Denison this semester.
Geoffrey Nelson is currently the guest director for Sam Shepard's Suicide in B Flat at Ohio Northern University in Ada, Ohio.
The play, written and first produced in the 1970's, is a decidedly non-realistic look at the dangerous combination of creativity and celebrity. "It's written in a sort of surrealistic film-noir style," says Nelson, "and interweaves the story of two detectives investigating the murder or suicide of a famous jazz pianist with the story of the pianist himself." Suicide is accompanied by a live jazz piano that underscores and counter-points the action throughout the play.
The cast is comprised of majors from ONU's Department of Theatre as well as the accomplished student pianist James Park, a music major.
In addition to directing two of Shepard's plays, True West and Fool for Love, Nelson has also produced his A Lie of the Mind.  While in the doctoral program at OSU, he researched the acting and directing theories that lay behind much of Shepard's work for a possible dissertation.
Geoffrey Nelson will provide the voice for "Headmaster Burnbush," one of the characters in a new musical by Stefan Farrenkopf.  Lunch Lady: Tater Tots of Love will be presented August 3-5, 2012 by the Shots in the Dark Theatre Company at the Columbus Performing Arts Center.
Headmaster Burnbush never appears onstage, but he can be heard making announcements over the PA system during each scene change. Nelson recorded Burnbush for one performance, while local celebrities Artie Isaac and Jim Ganahl recorded the others.
For additional information (as well as a montage of the three Headmaster Burnbushs), go to the Lunch Lady: Tater Tots of Love Facebook page by clicking here.
Nelson is no stranger to voice acting and voiceovers, having worked for two years at News 820 WOSU-AM (now 89.7 NPR News) narrating and producing radio features, conducting interviews and co-hosting a live weekly show.
For voiceover work, as well as film and television, Nelson is represented by CAM Talent.
In June, Herb Brown's play You're My Boy was given a reading in New York City.
The play traces Richard Nixon's rocky relationship with Dwight Eisenhower during the eight years Nixon served as Ike's Vice-President.
You're My Boy received its world premiere at CATCO in 2005, directed by Geoffrey Nelson, who had worked with playwright Brown for several years developing the script. Boy was nominated for a GCAC Artistic Excellence Award and was a big box office draw at CATCO.
The New York reading was part of a New Play Reading Project sponsored by UCLA.  Presented in the theatre at the Theodore Roosevelt Birthplace Museum, the reading featured Andrew Polk as Nixon and Robert Emmet Lunney as Ike.
This is the third New York reading that Brown's play has received.
*****
In May, Geoff Nelson was the featured speaker for the Ohio Playwright's Circle in Dayton.
OPC Founder Michael London interviewed Nelson about his 25+ years of developing and producing new works, including Pierce to the Soul by Chiquita Mullins Lee, You're My Boy by Herb Brown, Rickey by Jerry Holt and seven productions of The Shorts Festival.
Nelson also offered tips for playwrights seeking to get their plays produced.
During the first half of 2012, Geoffrey Nelson has been teaching acting at Denison University in Granville, Ohio, as well as conducting workshops for other educational institutions.
In January, he led a professional development workshop for theatre majors and faculty at Ohio Wesleyan University in Delaware, Ohio.
The OWU workshop focused on breaking into the profession for actors and directors and included a profile of the Actors Equity Association.
In March, he gave a workshop on Script Analysis for high school actors at the Ohio Educational Theatre Association's Annual Thespian Conference in Centerville, Ohio.
Later in the spring he is scheduled to give audition advice to students at the Arts Conservatory of the Village Academy in Powell and at the Department of Theatre and Dance at Otterbein University in Westerville.
In February, Geoffrey Nelson guest-directed Almost, Maine by John Cariani for the Department of Theatre and Dance at Wittenberg University in Springfield, Ohio.
For seven weeks, Nelson rehearsed with nine very talented student actors as well as student designers, stage managers and crew. The end result proved to be very popular with university audiences and drew large crowds. Nelson is a native of northern Maine, where the play is set. 
Almost, Maine premiered at the Portland Stage Company in 2005, prior to an off-Broadway run the following year, and is one of the most frequently-produced plays in American theatre.
Nelson also directed the successful 2010 CATCO production of the play, which featured a cast of four professional actors.